EC Harris, the UK arm of Dutch engineering giant Arcadis, will now offer a 'full set of integrated services'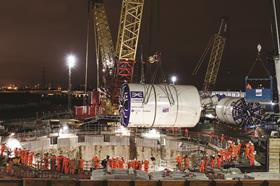 Arcadis' planned £256m acquisition of UK engineer Hyder will benefit its existing UK-based business EC Harris by enabling it to offer a "full set of integrated services", the boss of the Dutch engineering giant has said.
Arcadis revealed last week it has agreed a deal with the board of £297m-turnover, 4,500-strong Hyder, with the acquisition expected to close in the fourth quarter this year, subject to shareholder backing.
The deal will see Arcadis grow to become a €2.9bn-turnover (£2.3bn), 26,500-strong business.
Arcadis chief executive Neil McArthur told Building this week that EC Harris would "benefit greatly from the deal", particularly from being able to "combine its project management, cost management and business advisory services with Hyder's design and engineering services" in the UK and Middle East.
McArthur said: "The deal will allow EC Harris to offer our clients a full suite of business capabilities, including design and engineering."
The deal will allow EC Harris to offer our clients a full suite of business capabilities, including design and engineering

Neil McArthur, Arcadis
Industry leaders told Building the Arcadis/Hyder deal, along with Aecom's agreed $4bn (£2.3bn) acquisition of URS announced last month - which would make Aecom the largest consultant in the UK - would shake-up the construction consultancy market.
Keith Howells, chairman of employee-owned engineer Mott MacDonald, said the deals will increase the pressure on smaller firms to be "efficient", as large consolidated corporate firms "can use price as a weapon in markets where they want to make headway".
He said the 16,000-strong Mott MacDonald was "very happy to join up with other large employee-owned firms to deliver scale and there are lots of them out there if the market gets ridiculous".
Hanif Kara, co-founder of 220-strong engineer AKT II, said the deals were "quite positive" for SME engineers: "The gap between 'small' and 'large' is growing bigger. These [consolidating corporate firms] can't cope with doing small complex projects in central London; they'll lose money on these. That leaves more work for firms like ours."
Lance Taylor, chief executive of cost consultant Rider Levett Bucknall, questioned the value of M&A deals in construction consultancy: "Mergers and acquisitions make great headlines but [really] only have a negative impact on the long-term interests of the acquired firm, especially its hard working staff."
David Hurcomb, chief executive of M&E firm NG Bailey, said he expected consultants to consolidate further: "They're people businesses and have a lot of intellectual property to share. I think they'll get bigger and bigger and size up until they're massive like in law or accountancy."
The Arcadis-Hyder deal will roughly double Arcadis' businesses in the UK and Middle East, while enabling it to enter the Australian market for the first time.
Arcadis' UK division, which trades as EC Harris, will expand to a €322m-turnover (£255.5m), 3,800-strong business.
Arcadis' Middle East business will jump to €179m (£142m) turnover, while the firm will gain a €79m (£63m) foothold in Australia.
McArthur said Arcadis has identified "growth opportunities" from utilising Hyder's 900-strong offshore engineering design facilities in the Philippines, India and Jordan.
Arcadis said it expected to make "annual pre-tax synergies of around £15m" from the deal, with these expected to be "fully realised by the end of 2016".