Full year revenue rises 5% as company puts chief executive Neil McArthur forward for re-appointment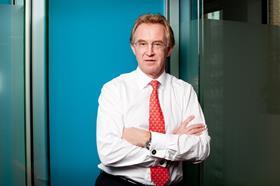 Strong results from UK and European operations helped Arcadis grow revenue 5% to €2.6bn (£1.9bn) in the year to December 2014 despite tough market conditions in North America.
The rise was attributed to a particularly strong final quarter of 2014, with revenue up 26% to €808m (£596m), up from €643m (£474m) the previous year.
The parent company of EC Harris and Hyder said 1% of its growth over 2014 came organically, with the remaining 4% from acquisitions.
Operating profit grew 11% to €123.6m (£91.4m) for the year.
Arcadis hailed the "strong" contribution of its UK and European operations, but said its North America business had been buffetted by "continued tough market conditions".
Arcadis said there was a positive outlook for the UK infrastructure market, with increased government spending expected, and a boost in infrastructure spending in continental Europe. In the office and corporate market, the company said in a statement: "Strong growth is expected to continue in Asia and the UK resulting from strong capital expenditure by big urban clients."
The firm also announced current chief executive Neil McArthur (pictured) has been put up for another four year term in the role, with the proposed re-appointment to be put to shareholdersfor approval at a general meeting in May.
Speaking about the results McArthur said: "North America has underperformed versus expectations during 2014, however, we have started to implement a new market model, evolved the operating model, made leadership changes and are confident to see a return to growth in 2015.
"With respect to collaboration, our pan-European operating model has demonstrated its effectiveness, as we improved the operating margin from 3.2% to 10.2% in just 18 months."