Trans-Pennine trunk road had been due to be dualled six years ago
Arcadis has bagged a two year contract with Highways England to develop proposals to upgrade the A66 east-west trunk road in northern England.
The road begins just outside Middlesbrough and finishes at Workington with key junctions at Scotch Corner for the A1(M) and at Penrith for the M6.
A report last November by Highways England said studies done so far on the route, which is frequently blocked by snow in the winter, had recommended that improvements include completing the dualling of the road as well as making the A69, which runs higher up from Newcastle to Carlisle, dual carriageway as well.
The A66 is notorious for accidents and is used by large numbers of lorries meaning journey times on the route from North Yorkshire to Cumbria are often slow.
Under plans by the former Labour government, the 50 miles between the A1(M) and M6 between were all supposed to have been upgraded to dual carriageway by 2011.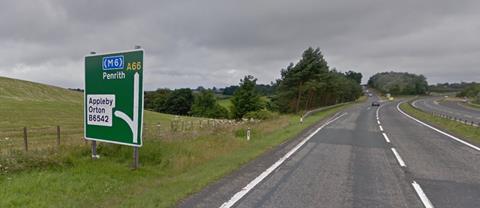 Last year's report warned: "If improvements are not made, delays and levels of congestion on the M62, as the only existing east-west strategic Trans-Pennine route, will continue to increase."
Arcadis's project is part of Highway's England's Road Investment Strategy and will focus on identifying improvements to the stretch between the A1 and the M6.
The consultant will focus on delivering design, traffic, economic and environmental assessments across the route.
Steve Davies, project director at Arcadis, said: "Delivering better road links across the region is a core component for developing the Northern economy and an integral part of the Northern Powerhouse agenda."