Business posts improved third quarter numbers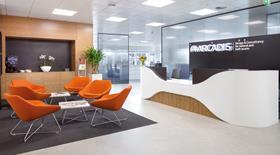 Arcadis said the architecture firm that it considered selling last year turned in an improved set of figures in the third quarter, in its first update on the business after taking the for sale sign down in July.
CallisonRTKL was formed out of the merger of Arcadis subsidiaries Callison and RTKL Associates in October 2015 and is currently headed up by Arcadis' former global director of buildings Tim Neal.
Last September the firm said the review was to "evaluate a range of strategic options to optimise the value of CallisonRTKL, within or outside of Arcadis, to provide the best prospects for our people, clients and shareholders".
But in July, Arcadis said the outcome of the review was that CallisonRTKL will continue to operate as a separate division.
In a trading update for the third quarter, Arcadis said gross revenue at CallisonRTKL during the period was up 1% to €79m (£70m) compared to the same period in 2017 – although revenue in the first nine months of the year is down 11% to €220m (£194m) which the firm blamed on a weaker start to the year.
Arcadis said the business had been "re-energised [to] deliver on [a] revised strategic plan".
The firm has 1,700 employees across 23 offices located in North America, Asia, the Middle East and Europe. It has two offices in the UK at London and Manchester.
In the update, Arcadis said its "brand recognition" in the UK would help it offset any Brexit headwinds, adding that net revenue growth in the UK in the first nine months of the year was up 14%.
In its update, the consultant said gross revenues were up 6% to €808m (£713m) with revenue for the year so far flat at €2.4bn (£2.1bn).
The group's EBITDA increased 8% year on year to €54m (£47.6m) in the third quarter with the year to date up 3% to €153m.
The firm said it was taking a provision of €53m (£47m) on a natural gas project in Brazil which the firm is pulling out of.
It is due to release its full year results for 2018 on 14 February next year.