Arcadis posts solid results despite "challenging" year in emerging markets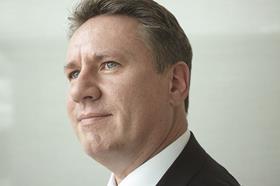 Arcadis' UK business clocked up a profit margin of over 10% in 2015, according to results published by its Dutch parent group this morning.
Arcadis UK - which is led by UK chief executive Alan Brookes (pictured) and incorporates the former UK arms of EC Harris and Hyder - hit an operating margin of 12.3% in 2015, up from 9.9% the previous year.
In the UK operating profit, expressed as operating earnings before interest tax and appreciation (EBITA), increased by 86% to €54m (£42m) for 2015, up from €29m (£23m).
Overall the group reported a 23% increase in operating EBITA for 2015 to €250m (£203m), up from €175m (£136m) in 2014. Group revenue also increased 31% to €3.4bn (£2.6bn) for 2015, up from €2.6bn (£2bn) for 2014.
Arcadis admitted it experienced a "challenging" year in some markets. The firm had previously made a profit warning due to slower than expected trading in its emerging markets operations and North American business in the fourth quarter.
Arcadis chief executive Neil McArthur said that the recession in Brazil, slowdown in Asia, as well as low oil prices impacted the company's emerging markets business, global business lines, and infrastructure and environment arms.
McArthur said the group faced "specific issues" during the year including the investigation by the Brazilian authorities into Arcadis' Brazilian subsidiary Arcadis Logos in connection with a large water management project on the São Francisco river in the north of the country.
Arcadis has said it has received no further requests for information by the Brazilian authorities and continued with its own internal assessment.
McArthur added that the outcome of the final purchase price allocation of Hyder and Callison was "disappointing" and not what was expected at the time of the acquisition.
However, the acquisitions had contributed to revenue growth and contributed to some important projects wins such as the Port of Calais, Crossrail 2, Qatar Rail and Jeddah Metro during the year.
Most recently Arcadis has seen its Milles Arbes project for central Paris selected by city authorities as part of a regeneration programme covering 23 sites across the city.