Parliament has begun debating bill to leave the EU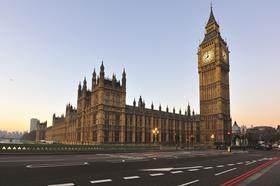 Construction firms should start setting aside funds to cover "surprise cost increases" in case of a 'no deal' Brexit, consultant Arcadis has said.
This scenario has become an increasing possibility after Brexit secretary David Davis said the UK would not trigger a transition period if a final deal, at least in principle, on a future partnership with the EU is not reached by March 2019.
The firm added that a 'no deal' Brexit would likely further undermine the commercial sector, for which Arcadis expects to see a further decline in construction demand next year.
New construction orders for commercial buildings dropped 11% between Q4 2016 and Q2 2017, Arcadis said.
A loss of access to the European Investment Bank could also result in delays to housing and infrastructure investment.
A 'no deal' Brexit could also see materials costs increase due to import tariffs, which are anticipated to likely average between 2-3% and further devaluing of the pound, as well as logistical problems due to customs queuing.
In addition, an administrative burden on firms employing European nationals would likely be created, it reported.
Will Waller, market intelligence lead at Arcadis, said: "The threat of a Brexit 'no deal' in 2019, which will bring severe ramifications for UK construction in the short term at least, is very real and the industry needs to plan for this now.
"Also, if EU negotiations continue to stall, businesses will start to make decisions on the basis of a 'no deal' as early as March 2018, making preparations even more pressing."
Against this backdrop, the consutlant is predicting that tender price growth could hit 5% in 2019 in the infrastructure sector and 3% in London after two years of smaller growth increases.