Landmark ruling caps consultant's liabilities on 17-year-old problem jobs at £610,000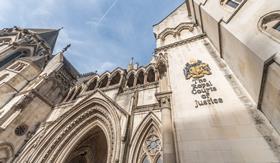 An appeal court decision has spared Arcadis a potential payout of millions of pounds, in a ruling that underlines the risk of starting work on site before contracts are finalised.
The ruling, earlier this month, reversed an earlier decision that had said consultant Arcadis had no liability cap in a dispute over work undertaken for Amec, which pulled out of contracting more than a decade ago to concentrate on the energy sector.
The original case dates back to 2001 after the then Amec-owned concrete specialist Buchan hired Arcadis, then known as Hyder Consulting, to carry out design works in connection with two projects – the then-new Wellcome building in central London, designed by Hopkins Architects, and Castlepoint car park in Bournemouth – in anticipation of a wider agreement which in the end did not materialise.
And when work on the car park was shown to be defective, Amec sought compensation from Arcadis.
The consultant said it wasn't liable but noted that in any event compensation would need to be capped at £610,000.
The judge at the original hearing said that because Arcadis had never accepted any of the terms there was not enough certainty to say that both parties had agreed to be bound by a liability cap, a ruling that could have cost the consultant millions.
However referring to terms and conditions sent by Amec to Arcadis on 8 November 2001 – to be known as the 'November Terms' – an appeal judge, drawing on a number of previous cases including one involving British Steel in 1981, effectively limited Arcadis' liability to £610,000.
Anne Thompson, associate at CMS Cameron McKenna Nabarro Olswang, said that while the original case was "quite fact specific" and a "cautionary tale" the finding of the appeal court might give a greater degree of comfort to suppliers in future.
"There will always be a risk when starting work without signing a formalised contract, but this latest ruling may carry more weight for firms, although we would advise companies to make sure the terms [for liability] are clearly laid out."
And citing what he said was "a close call for Arcadis", solicitor Christopher Filor of Filor Solicitors said cases where work starts well before there is ever a final signed contract were extremely fact sensitive.
"This case is no exception and it is a salutary tale of the lawyer's bonus which can arise from uncertainty, but by no means guarantees the desired outcome.
"It is dangerous to be blasé about documenting negotiations in the hope that the law will ultimately come to the rescue."