Manchester Airports Group awards Arcadis role of sole managed service provider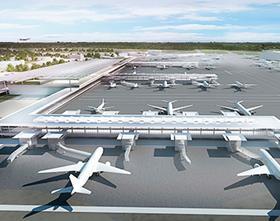 Arcadis has been appointed by Manchester Airports Group (MAG) as its sole managed service provider on the £1bn Manchester Airport Transformation Programme.
Arcadis will be responsible for the programme management of the entire transformation, including programme and project controls, commercial, risk, value management and design Guardianship as well as supporting MAG in the wider stakeholder management as the airport seeks to grow.
The 10 year transformation programme plans to increase passenger capacity from 20 million to 30 million passengers per annum by 2025 through the expansion and reconfiguration of Terminal 2 to become the airport's primary terminal building. It will also put in place further improvements to Terminal 3 to cater for increased demand and an expanding flight schedule.
Arcadis UK chief executive Alan Brookes said: "With Manchester expected to play a significant role as one of the economic 'powerhouses' in the North of England, investment in infrastructure and transportation are key for the city and vital in terms of helping to accelerate growth potential.
"With major long-term projects of this nature, being able to offer certainty of outcome is integral for everyone involved and, as Arcadis, the fact that we can operate across the entire project lifecycle played a major part in our being awarded the contract."
The firm has already been providing project and commercial services to MAG since March 2015 as a framework supplier.