Phase one of the £700m Middlewood Locks scheme in Salford has been given the go-ahead by Salford city council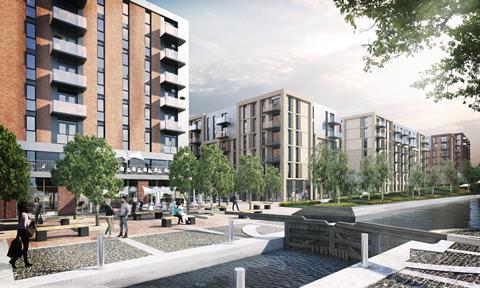 Plans have been approved by Salford city council for the first phase of the 24-acre £700m Middlewood Locks development in Salford.
The new residential and commercial neighbourhood located at the western gateway to Manchester's Central Business District is being delivered by FairBriar International – a joint venture between the McCabe family's Scarborough Group International, Hualing Group, based in Xinjiang, China and Metro Holdings Limited, a Singapore-listed property development and investment group.
Designed by WCEC Group the development is centred around three large basins of the Manchester, Bolton and Bury Canal in Salford.
Construction of the first phase which includes 571 homes will begin early next year with residents expected to move in mid-2017.
Middlewood Locks received outline planning consent in March 2015 from Salford City Council to deliver a new mixed-use neighbourhood, which, in total, will provide around 2,000 new homes and more than 750,000 sq ft of commercial development space, including offices, hotel, shops, restaurants, a convenience store and gym.
Scarborough Group International development director Lee Savage said: "This is fantastic news. Over the past year, we have worked closely with the members and officers of Salford City Council and consulted with all the local communities and interested groups to achieve this milestone for Middlewood Locks.
We can now concentrate on delivering a development of which Salford and Greater Manchester can be truly proud."