Institute issues blueprint for post-Brexit immigration
The RIBA is calling on the government to make "drastic" reforms to the UK's post-Brexit immigration system, as a survey found 86% of architects think access to international talent is essential.
The institute released a 30-page report today – Powered by People – arguing the £4.8bn sector is in jeopardy and making 18 recommendations to ministers.
These include sharing responsibility for immigration between the Home Office and the Department for Business, Energy and Industrial Strategy (BEIS), with a minister for immigration attending cabinet as well as increasing the availability of visas. (See box below for all 18.)
At the same time the RIBA published research showing that almost half of EU architects have considered leaving the country since the referendum.
Last year the Arb reported a 42% drop in the number of EU architects registering in the UK. This is a problem because more than three-quarters of the international architects working in Britain are from the EU – and a quarter of the whole workforce is foreign-born.
RIBA chief executive Alan Vallance said: "International architects make up one in four of the UK architecture workforce, and without them the £4.8bn contribution the sector makes to the economy would be in jeopardy.
"It is not simply about numbers though – our sector thrives on diversity, benefiting from different ways of working, backgrounds and experience.
"The government has made it clear it wants UK businesses to expand overseas but ministers must provide the conditions to allow them to do so."
The report's publication coincides with the day the government's new "exceptional talent" visa comes into force. Announced in December, these will enable "outstandingly talented" architects to come to the UK without being subject to many of the restrictions of the current work visa regime.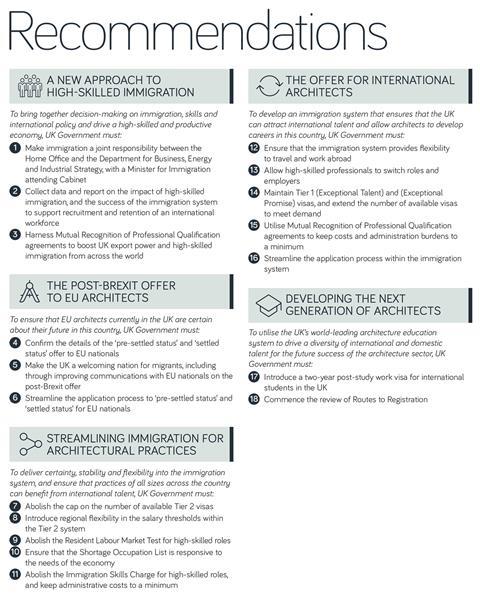 Soundbites…
…from international architects interviewed by the RIBA
"People say they wanted skilled migration, educated, technically-qualified people but then if you say 'we only want people that earn more than X' architects can fall through the gaps, especially the young ones."
"There's always been a sense of liberty about the UK… But a few years back it all started to be obsessive about immigration…. If I knew what things are like, I wouldn't choose it again."
"We are two directors and two staff; if I need to do administration and pay fees to bring an architect here… it becomes more complicated… You end up with smaller practices being less able to recruit the best talent, which is a problem if you want to grow."
"It's stressful on people with high expertise and who can offer a lot; being flexible is part of the game in architecture and especially in the UK it is essential."