Warning over lack of urgency comes as Building launches consultation on long-term construction policy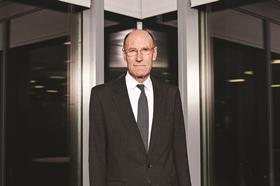 Sir John Armitt, one of the industry's leading figures, has suggested power blackouts in the UK could be necessary to instil the sense of urgency required to upgrade the UK's energy infrastructure.
In an interview with Building this week, Olympic Delivery Authority chair Armitt (pictured), who last year completed a review of long-term infrastructure planning for shadow chancellor Ed Balls, said the UK was nearing a "crisis" when it came to constructing the energy generation capacity required to replace ageing coal-fired and nuclear power stations.
The interview was timed to coincide with the launch by Building of Agenda 15, a major editorial initiative intending to give the construction industry a chance to shape long-term policy affecting the sector ahead of the 2015 election.
Building is calling on readers from all sectors of the industry to contribute to a wide-ranging consultation designed to pull together a manifesto for construction in time to influence the political process.
Speaking to Building, Armitt said: "We are very close to being in a crisis when it comes to energy. Ofgem, who are the experts, say the excess capacity is just 4%.
"The Central Electricity Generating Board used to say that a resilient network operated on a 25% capacity surplus. [But] we're down to 4 [% capacity surplus] because we've gone slower than we should have done on nuclear.
"In harsh political terms [blackouts] would be the best possible thing that could happen, because this country is extremely good in a crisis."
Armitt's review, published last September, recommended the setting up of an independent National Infrastructure Commission designed to assess and plan for the UK's infrastructure needs. He said that while the coalition government had made progress around infrastructure projects in recent months with the appointment of Paul Deighton, the government's National Infrastructure Plan was "not strategic" and "essentially a list of projects".
Before Christmas, Armitt was asked by Balls to draw up draft legislation designed to implement the proposal if Labour were elected to government in 2015.
Armitt, who has been criticised in some quarters for the partisan nature of his review, told Building that he had attempted to secure input to it from Conservative politicians, but they declined after consultation with Conservative HQ. He added that he was not a Labour party member.
He also revealed that, following his knighthood in 2012, he would consider taking up a place in the House of Lords if asked.

For the full interview with John Armitt click here.