Pharma giant switches from Skanska to Mace as completion is put back to 2020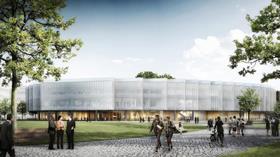 Further delays to the construction of pharmaceutical giant AstraZeneca's new headquarters in Cambridge could push the building's final price tag to more than £500m.
And following a review of the project, Skanska has been replaced by Mace as construction manager for the scientific fit-out and commissioning phase of the project.
Skanska has worked on site since the summer of 2015 and will hand over responsibility to Mace in November.
Completion is now expected in the first half of 2020, nearly three years behind schedule.
AstraZeneca, which develops treatments for heart disease, cancer and respiratory illnesses, had expected to move into the Herzog & de Meuron-designed building (pictured) located on the Cambridge Biomedical Campus in the latter part of last year.
The original cost of the development, which will include the pharmaceutical firm's global R&D hub, was originally £300m, although this had subsequently been revised upwards to £500m.
AstraZeneca said it had decided to make the switch to Mace following a review of the project and added: "We recognise the valuable contribution Skanska has made to the project and thank them for their ongoing support.
"With over four million hours worked on site since breaking ground in August 2015, Skanska has steered the project through the delivery of the base building infrastructure and completion of the Energy and Data Centre."
"Following a transition period, we will be able to communicate an update as to when we can commence occupation of the facility. As of today, this points to the first half of 2020."