Atkins has unveiled designs for a new HQ office building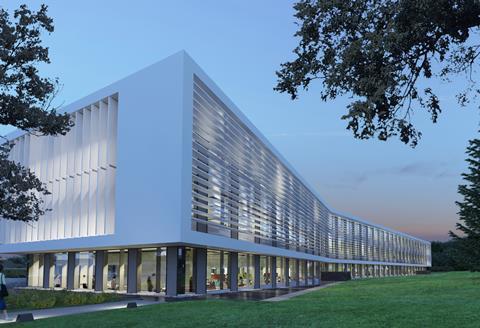 Atkins has revealed its design and masterplan for a self-designed new office complex at its Woodcote Grove campus in Epsom.
The office has been designed by Atkins' architects and project managed by Faithful+Gould. Henry Boot will build the project, while Scott Brownrigg is planning consultant.
Construction will start in the summer of 2016, with car park works from January 2016. The existing facilities on the site will remain in operation throughout construction until completion in 2018.
"Sustainability is at the heart of our design," said Kaare Nielsen, Atkins' lead architect for Woodcote Grove, adding that the "orientation of the building addresses solar gains and glares, and gives the best possible results for natural light and ventilation."
"The new building is intended to encourage more interaction between our multi-disciplinary design, engineering and project management teams."
Atkins UK & Europe chief executive Nick Roberts said: "Our new offices at Woodcote Grove will help our teams collaborate, and encourage the knowledge sharing and inter disciplinary teamwork that make Atkins a world class consultancy and ensure we deliver value to our clients in years to come."