Atkins will lead design of a £369m Las Vegas freeway project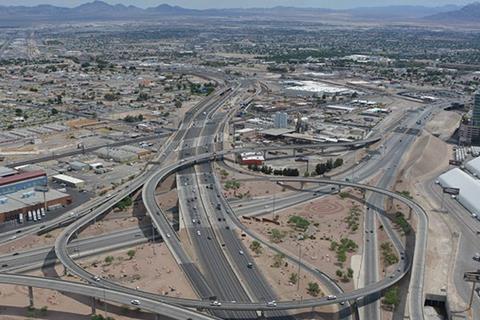 Atkins has been appointed lead designer on the $559m (£369m) Nevada urban freeway project in Las Vegas.
The firm will manage all design and engineering services on the project for the Nevada Department of Transportation (NDOT), in what it describes as its "most significant win" to date in North America.
The project will deliver a 3.7 mile corridor through the heart of Las Vegas, developed over three years beginning in 2016.
It will connect high occupancy vehicle lanes on US 95 to I-15 express lanes with a flyover bridge, creating direct access carpool lanes and a new "Neon Gateway" interchange.
L. Joe Boyer, chief executive of Atkins, North America, said: "Atkins is tremendously proud to be the lead design firm for this critical project, which has been deemed NDOT's most important and ambitious in its history.
"Project NEON is essential to the progression of Las Vegas' transportation demands and quality of life, given traffic is expected to double for this corridor in the next 20 years."
"Project NEON addresses a multitude of corridor deficiencies related to congestion, crash rates, operations, and system linkages," said NDOT Director Rudy Malfabon. "It will dramatically improve traffic congestion in Southern Nevada, while also creating 4,000 high-paying, quality jobs."
Atkins has already designed many of Nevada's roadway projects including ten miles of freeway reconstruction between Robb Drive to Vista Boulevard.