No. 1 Forbury Place, owned by M&G Real Estates, will be completed Q2 2015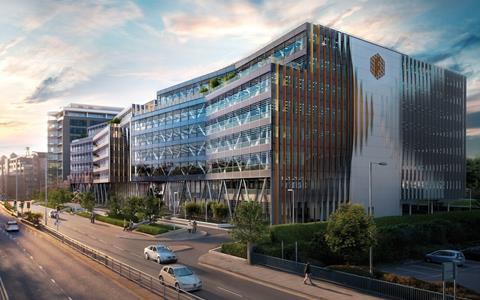 An office campus designed by Aukett Fitzroy Robinson has started construction in Reading.
No. 1 Forbury Place project is due to be completed in the second quarter of 2015.
Galliford Try is the main contractor on the £38m project.
The 185,000 sq ft office is one of the two buildings that comprise Forbury Place, a development owned by M&G Real Estate, which in total provides 370,000 sq ft of office space.
The vertical fins on the side of the building provide shading, and the design's diagrid is aimed at giving the building a unique visual identity.
Luke Schuberth, managing director at Aukett Fitzroy Robinson, said: "A building of Forbury Place's gravitas requires striking architecture and that is precisely what we've created.
"The dynamic design of Forbury Place should serve as an inspirational catalyst, signalling the next step in office design in the South East."