Legal action continues as practice hopes to end CVA this summer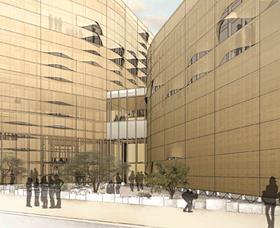 Fourteen former employees of Austin-Smith Lord in Abu Dhabi have been paid nearly £700,000 as part of a long-running dispute to recover money they were owed when the firm nearly went bust two years ago following a payment wrangle.
The news comes as the firm in charge of the CVA the practice entered into to head off insolvency said Austin-Smith Lord could be free of the agreement by the middle of this year.
The agreement was set up by accountant BDO in November 2011 and allowed the firm to continue trading as long as it began paying back some of the money it owed creditors. It was due to have finished at the end of 2013.
Last summer Austin-Smith Lord was paid just over £2m by the Abu Dhabi client it got into a payment bust-up with for its work on a cultural centre (pictured) in the Gulf state.
But the client, Adach, was obliged to keep back £750,000 to cover potential liabilities it was facing from the 14 employees who had begun the legal action to recover missing wages when they took out emergency injunctions in December 2011.
Building's sister title Building Design reports that in an update sent last month, BDO's joint supervisor David Gilbert told creditors: "The amount paid to the UAE employees to date, including the court's charges and interest, totals circa £685k. Five of the UAE employees are currently appealing the court's decisions. I anticipate the hearings will be resolved in the next three months."
Gilbert said he expected unsecured creditors to eventually get back around 40p in the pound when the CVA ends which he said he hoped will be some time between spring and summer this year.
"I hope to be in a position to pay the final distribution to creditors within the next three to six months," he added.
Austin-Smith Lord partner Neil Chapman said the CVA had affected its ability to win public sector in Scotland where its Glasgow office is one of three it has along with Cardiff and Liverpool.
"It's the credit scores that are affected there," he said. "It's not as much of a problem south of the border because we can providing supporting evidence about the score but in Scotland it's been more of a problem. Not having the CVA will enable us to rebuild our credit rating so it will be good to get rid of it."
DISPUTE'S IMPACT
Austin-Smith Lord employs around 55 people but the dispute with Adach saw more than 100 jobs go.
Partner Neil Chapman said the firm is not carrying out any overseas work at the moment but added: "We are looking at opportunities but we need to do it differently, we have to be a bit more cautious."