Contractors to upgrade motorway so traffic can use hard shoulder as an extra lane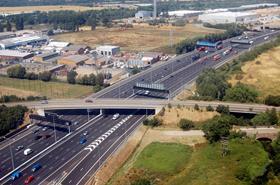 A joint venture comprising contractors Balfour Beatty and Skanska has won a £321m contract for upgrade work on the M25 motorway.
The contract, awarded by the Highways Agency, will see the joint venture partners build 46km of motorway between junctions 5 and 7 and junctions 23 and 27.
The scheme is part of the managed motorways strategy which converts the hard shoulder to a traffic lane and uses variable speed limits to control traffic flow.
The firms will also upgrade the central reservation on these stretches of road with a concrete barrier to restrict the impact of incidents, install electronic signage and CCTV cameras and build emergency refuge areas for vehicles.
Ian Tyler, Balfour Beatty chief executive, said: "We are very pleased to have been awarded this new contract on the M25. It builds on our existing contracts across the UK roads network and strengthens our position in the transportation arena, which is a core strategic sector for us globally."