Four month difference between pair over hospital completion date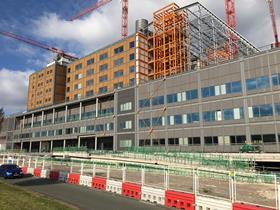 Balfour Beatty and the NHS trust responsible for completing the Midlands hospital Carillion was building before its collapse are yet to agree on when the £267m project can be finished.
The Sandwell and West Birmingham Hospitals NHS Trust named Balfour Beatty its preferred bidder to complete the Midland Metropolitan hospital earlier this year.
But documents published ahead of yesterday's meeting of the trust's board have revealed the pair still do not agree on when the stalled hospital will be finished.
The papers said: "The trust would like practical completion in December 2021 with a follow-on period for commission. Balfour Beatty was working with practical completion of April [2022].
"[Trust chief executive Toby Lewis] noted that he would like to identify opportunities to migrate that date backward with a target date for practical completion of 14 February."
In a statement to Building, Lewis said: "We know the new hospital will open in 2022 and it remains possible to do so before the Commonwealth Games." These are due to start at the end of July that year.
The papers also revealed there were concerns the government's delay in signing off the final business case for the hospital could result in Balfour Beatty walking away from the project.
It said: "The government delays would have a downflow affect to Balfour Beatty who may decide that they have had enough or that the price agreed to was no longer applicable."
Lewis told Building: "The delay to final approval of the contract is being addressed and we anticipate a clear agreement in coming weeks."
In the papers, the trust said it had wanted to sign a deal by the end of last month "to allow for orders to be placed at the right end of an inflationary cycle to make it easier to meet the £266.95m" budget.