Contractor makes internal promotions to replace departing bosses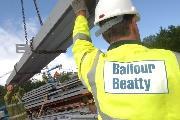 new
Balfour Beatty has announced three managing director appointments, as three senior directors leave the business.
The changes include the promotion of Steve Helliwell to managing director of Balfour Beatty Living Places, the contractor's local authority business.
He replaces Amanda Fisher who Balfour said has left the company to pursue other opportunities.
Helliwell joined Balfour in 2013 as operations director having previously been Managing Director of Amey's Logistics Business Division.
The firm has also promoted Jon Winter as managing director for the firm's regional construction business in the South.
Winter has been with the contractor since 1987 and replaces John Keaveney who is departing the firm.
Thomas Edgcumbe has also been appointed as managing director for Balfour's regional construction business in the North & Midlands.
Edcumbe joined Balfour in 2012 as head of finance for its rail business and most recently has led the firm's rail regional projects business.
He replaces Mark Farrah who, following a short handover period, will be leaving the business at the end of August to pursue opportunities outside of the group.
Dean Banks, managing director of Balfour Beatty's UK Construction Services business, said: "These promotions are testament to the breadth and depth of talent and expertise we have across the Balfour Beatty Group.
"Steve, Jon and Thomas bring a wealth of industry experience to their new roles, further strengthening and upgrading a leadership team which is delivering for our customers."
The internal promotions come after nearly a quarter of the contractor's shareholders revolted at the company's AGM in May against plans to increase bonuses for chief executive Leo Quinn and finance director Philip Harrison.
Institutional Shareholder Services, a US-based corporate governance provider, advised institutional investors that the new deal was "inappropriate".
But in Balfour's annual report the remuneration committee chairman Iain Ferguson pointed out the changes had "taken into account the significant milestones that have been achieved in the group's transformation as a result of the performance of the individual directors". The proposal was carried despite the revolt.
Balfour Beatty in March returned to profit for the first time in two years posting a slim pre-tax profit of £8m for 2016. The group had previously posted £199m and £304m pre-tax losses for 2015 and 2014 respectively.
However, Balfour's construction division - which covers the UK and US - slumped to a fifth consecutive annual operating loss of £57m, although this was a substantially smaller loss compared to the £280m operating loss the previous year.
Within this division, Balfour's UK construction business posted an operating loss of £64m on £1.9bn revenue, reduced from an £187m loss on £2bn revenue the previous year. However, Balfour said UK construction edged back to operating profit of £2m in the second half of 2016.
The firm, which has been dogged by problem jobs in recent years, said it had met its year-end target of practically completing 90% of its legacy jobs, with 70% reaching financial completion.
But the firm admitted that in the UK nine problem contracts remained uncompleted, which "could result in a materially positive or negative swing to profitability and cash flow" in future.
Four of these UK problem jobs are expected to practically complete this year, with the remainder in 2018.