Contractor's half year results also reveal cutting of 650 jobs although group performs strongly overall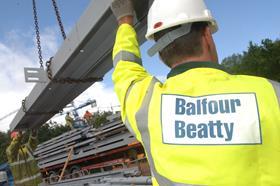 Balfour Beatty's construction division has seen operational profits drop by 21% in the first half of this year compared to the same period in 2011.
Announcing the half yearly results this morning, the contractor reported operational profit in construction services fell from £67m to £53m over the period although revenue was up to £3.5bn from £3.3bn.
Balfour Beatty pointed to difficult markets in traditional building, civils and the rail sector but said the division had performed as well as expected and was likely to maintain underlying margins at around 2% for the full year.
Construction margins for the first half fell from 2% to 1.5%.
The group performed well overall with pre-tax profit rising to £154m from £138m and revenue growing to £5.5bn compared with £5.2bn in the first six months of last year.
Chief executive Ian Tyler said: "We have delivered another set of solid results in challenging markets and remain on track to meet our expectations for the full year.
"We are making good progress on the early stages of our growth strategy in key industry verticals where our deep asset knowledge differentiates us from the competition."
The report also provided an update on Balfour Beatty's restructuring of its Constructions Services divisions, saying it expected to see 650 jobs in "back office functions" go up to January 2013. The firm said it would reduce its number of offices from 75 to 40.
The restructuring will cost up to £75m but will deliver £50m in annual savings, Balfour Beatty anticipates.
The firm said its construction division was adapting to a "post-Olympics" world in the UK after delivering major public projects including the Aquatics centre.
The firm said: "In the 'post-Olympics' world, the UK business has been focusing on replenishing the order book with more varied, smaller, often private sector projects.
"Our depth of capability across a range of end-markets is benefitting us in this regard; our UK order book and revenue have declined by 3% and 2% respectively in the first half, in a marketplace that has continued to shrink.
"Against this difficult backdrop, the cost reduction initiatives as well as good operational performance have held profitability at the expected level.
"Although the traditional building and civil markets are challenging, our diverse skill set stands us in good stead in emerging sectors."
Balfour has won a number of waste treatment jobs and is waiting to hear the result on three schemes it is bidding for worth £300m.