Contractor targets local authorities for Green Deal energy efficiency work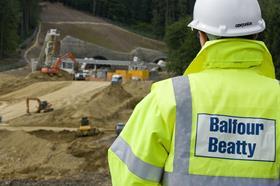 Contractor Balfour Beatty is aiming to amass an order book of £36m from local authority retrofit projects over the next three years off the back of the government's flagship energy efficiency schemes.
The contractor is now in negotiations with two separate local authorities to provide energy efficiency retrofits to their housing schemes, ahead of the introduction of the government's Green Deal and the Energy Company Obligation (ECO).
Mike Peasland, chief executive of Balfour Beatty Construction Services UK, said the contractor would look to generate a £36bn order book through "larger chunks" of work between £5m and £10m.
"We are trying to get the economies of scale where you should be able to make savings of 10-15% on the base price [for this work]," he added.
Peasland said that although the firm was targeting council-owned housing areas, the same could be offered in mixed-tenant areas, providing a better deal to owner-occupiers in the area.
Councils are expected to seek to leverage funding for the programmes from the £950m Carbon Savings Obligation and the £190m Carbon Savings Communities Obligation aspects of the ECO, which mandates that energy companies must hit targets for rolling out energy efficiency measures.