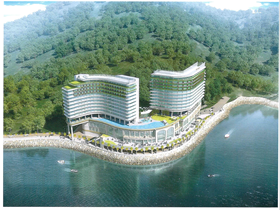 Balfour Beatty's joint venture in the Far East, Gammon Construction, has won a £97m contract to build The Fullerton Ocean Park Hotel in Hong Kong.
The hotel will be built with two 10-storey blocks on a three-level podium at the Tai Shue Wan bay, with the project including site formation, foundation and building work.
It is expected to be completed in 2021, with a workforce of 700 people employed at the peak of the construction period.
Gammon Construction is headquartered in Hong Kong and is a 50:50 joint venture between Balfour Beatty and Asian-based conglomerate Jardine Matherson, running since 2004.
Its current project portfolio includes the £300m development of eight medium rise residential blocks and four houses with two-level basement overlooking Tai Po's Tolo Harbour, and the £150m Lee Garden Tree Project, a building with 20 floors of offices sitting above a five-level podium of retail and food outlets.