Workers staged a mass protest at the Crossrail site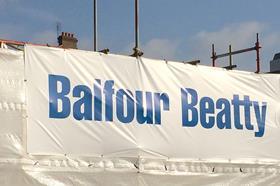 Workers on Balfour Beatty Kilpatrick's Crossrail site in Woolwich staged a protest this morning as the contractor confirmed it planned to cut up to 60 electrician jobs by Christmas.
The redundancy announcements came after workers there balloted for action to push for a finishing bonus.
But Balfour Beatty's M&E arm denied any corrolation between the two, saying the redundancies were planned, saying the redundancy consultation began before the ballot.
A spokesperson from Balfour Beatty said: "As works on the Crossrail Woolwich site wind down, we are beginning to demobilise our site operations and reduce our workforce. We have always been clear that our works would start to wind down towards the end of this year."
"On 8 November, we commenced a 45-day redundancy consultation period with Unite regarding the Balfour Beatty Kilpatrick workforce on the project. We made it clear that 50 to 60 operatives would be released from the project before Christmas. Yesterday, these employees were informed they would commence gardening leave as of today with their employment ending on 22 December 2017."
"We have of course explored alternative opportunities for the affected workforce but unfortunately on this occasion we have been unable to redeploy across our existing project portfolio."
"Today, a group of employees have assembled on site to protest about the redundancy consultation. This has not impacted our on-going works on site. We respect people's right to have their say and protest peacefully. Our priority is to keep people on and around the site safe including our workforce, and the local community."