Scheme ended up costing more than double its original £533m price tag
Balfour Beatty has said it will pick and choose clients more carefully after losing £200m on a scheme to build a bypass around Aberdeen.
The £533m job, signed as a fixed-price lump sum deal, ended up costing more than double that when it was finally completed early last year.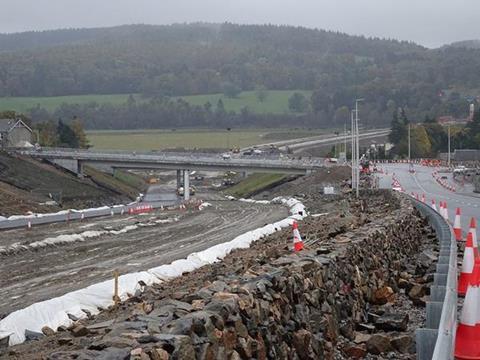 The scheme was hit by a series of problems including issues with utility diversions, flooded sites and the collapse of Carillion – one of the three joint venture firms that signed the contract with Transport Scotland to build the 55 km-long road.
Last month, Balfour Beatty struck a £32m settlement with Transport Scotland over the job which its chief executive Leo Quinn called "appropriate" although he admitted: "It was a long way short of our expectations."
He added: "You can never be pleased with losing £200m. We have learnt valuable lessons. We will never sign a contract like this again."
Asked whether he would work for Transport Scotland again, he said: "There is a very large market for infrastructure. We do have the ability to choose the right customers."
The country's biggest contractor said it saw a 52% rise in its year-end net cash position to £512m with an average monthly net cash position of £325m, up from £194m.
"It's a nice position to be in, cash is the number one issue," Quinn said.
But he said contractors were having to store up rainy day money because margins remained so low.
He added: "There is still too much risk being passed down to contractors. Terms and conditions need to be less onerous. If industry could achieve standard margins, which I believe are almost double what they are today, we could invest in skills and capital equipment. The industry standard is 2%-3%. We're only talking about [getting up to] 4% or 5%."
The firm's order book increased 13% to £14.3bn but Quinn said this would be up a further 40% if it included its upcoming HS2 work.
Quinn said it hadn't booked in the work "because the contracts haven't been signed" adding that he hoped work on £2.4bn-worth of work it is lined up for with Vinci near Birmingham, called the N1 and N2 tunnels contracts, will be signed by the end of June.
Pre-tax profit at the group last year was up 12% to £138m. Turnover was 8% to £8.4bn.