Value of projects leapt 62% in August, with public and housing work boosting Balfour's position
The value of projects won by the top 10 contractors rocketed 61.5% last month, from £705m to £1.1bn. The industry's leading firms brought in 197 projects, up from 186 in July (excluding civils).
Balfour Beatty made a triumphant return to the top spot after languishing in 12th position during July. A £230m street lighting PPP contract for Northamptonshire council provided a sizeable boost, while the firm also won a healthy £17m worth of housing contracts.
Morgan Sindall, fourth in the July table, climbed to second last month after landing contracts worth £65m from Hull council's Building Schools for the Future programme.
Lend Lease too secured valuable schools contracts with Birmingham council, as well as a £25m contract to build waterfront facilities at Devonport Naval Base. Five projects worth £83m enabled the firm to take sixth place after having spent July outside the top 50.
August proved a good month for Welsh contractor Watkin Jones, which swooped from 41st to ninth position, almost entirely on the back of commercial contracts valued at £59.4m. Dawnus also did well, landing a major contract with Tata Steel.
Housing work continued to be badly hit, dropping further from July's £112m to £110m, a new low for this year.
The public sector saw significant gains on July's figure, however, with the top 10 firms garnering contracts worth £701m, up from £356m.
The industrial sector also perked up, with £92m contracts, up from £39m in July.
Among the largest contracts was a £95m redevelopment of Trinity Square in Gateshead, won by Bowmer & Kirkland.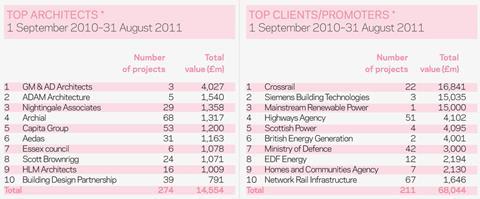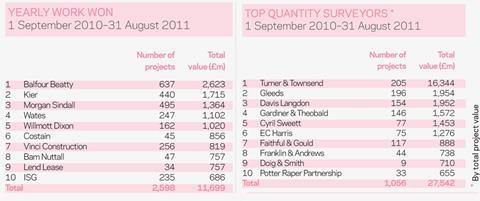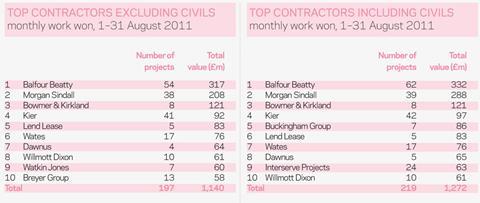 This information is compiled for Building by Barbour ABI. To contact, call 0151-3533 500, email info@barbourabi.com or visit www.barbour-abi.com. The figures include UK contracts worth £100,000 or more, and all work awarded by negotiation or competitive tender, including residential and civils, unless stated.