Prime minister David Cameron hails contractors spend on SMEs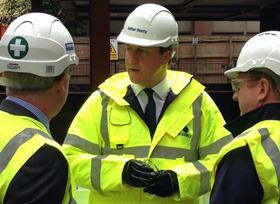 Balfour Beatty has announced it will up its spend on SME suppliers by a third to £1bn in 2014.
At a press event today Prime Minister David Cameron said the contractor's commitment would help the government achieve its goal of 25% of central government spend going to SME businesses by 2015.
The £1bn planned spend represents a 33% increase on Balfour Beatty's spend on small businesses in 2013.
Cameron said: "Giving businesses the confidence to invest and create jobs is a key part of our long term economic plan.
"Balfour Beatty's commitment to spend a record £1bn on small and medium sized businesses this year is very welcome evidence that this plan is working - supporting thousands of jobs within small and medium businesses, which will give hard-working people economic security for the future."
Nicholas Pollard, chief executive of Balfour Beatty Construction Services UK, said: "Small businesses create local jobs and apprenticeships and they are the innovators, engineers and exporters of the future.
"We are committed to supporting them so that we can build a better Britain together; leaving a lasting legacy in the communities we touch across the UK."