Rail and road contracts push contractor back into top spot but industry output dips 8.5% in April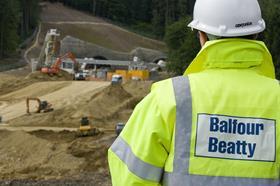 Balfour Beatty moved into top spot in the building work league table in May, with a £195m haul of contracts comprising 36 project wins.
A £29m deal for railway works at the London Gateway port development and £59.9m Highways Agency improvements contract helped the heavyweight contractor edge ahead of Interserve Construction, which moved from 9th place in April up into 2nd with £155m of contracts. The company's rise was on the back of a £100m contract to build two division headquarters and a training facility for the West Yorkshire Police.
Lovell Partnerships was another big mover, with a £100m housing, office and schools project with Derbyshire Cityscape lifting the firm from 22nd in April to 5th place in May.
The news came as the CPA/Barbour ABI construction index fell slightly in May, after rising in April.
The index, compiled by the Construction Products Association using data from construction information firm Barbour ABI, registered 119 in April, up 2% on the previous month, but in May it fell back to 116.
The index measures contract awards and uses a January 2010 base of 100.
The index continued to outperform 2011, with the headline figure up 13% on May last year, helped by strong performances in the commercial and industrial sectors.
Senior CPA economist Kelly Forrest said the ongoing eurozone crisis continued to weigh heavily on the sector and "securing finance remains a barrier to development".
Meanwhile, the Office for National Statistics' latest construction output figures showed an 8.5% fall in April compared with the previous year, with the largest falls in public projects, excluding infrastructure and housing (down 22.4%) and new public housing (down 22.1%).