Country's biggest contractor says if it can't redeploy staff, it will have to get rid of them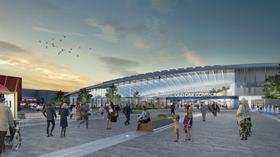 Balfour Beatty is warning that ongoing delays to work on HS2 could see the country's biggest contractor forced to lay off staff before they have even had the chance to work on the scheme.
The firm made the comments in a 20-page report it has published this morning highlighting how delays on a slew of huge infrastructure jobs will lead to redundancies and exacerbate the industry's skills crisis.
The contractor said: "The 'will they, won't they' approach the UK takes to schemes at the moment does not make for a robust skills pool.
"For example, Balfour Beatty has taken on a large number of employees in order to enable us to deliver the contracts we are proud to have won on HS2.
"However, the delays to HS2 mean that these people will now either have to be redeployed where possible, onto other schemes, or, where this is not possible, be made redundant."
A joint venture made up of Balfour Beatty, Vinci and transport planning consultancy Systra, was chosen to build HS2's £1.1bn Old Oak Common station (pictured) back in February.
But a legal challenge from beaten rival Bechtel has delayed the team from being officially appointed.
Balfour said a visible pipeline of work was essential to the retention of existing skills.
The contractor said high-profile infrastructure projects should be planned and sequenced by the government as a programme or pipeline of work to avoid "feast and famine" in the supply of skilled labour.
It added: "Specialist skills need to transfer to similar projects otherwise those skills will be lost as people move into other sectors, leave the industry or move abroad."
The report found that over 340,000 people will be needed to work across the eight "mega projects" the firm said were in the pipeline between 2019 and 2031. These include Crossrail 2 in London and a new nuclear power station at Sizewell on the Suffolk coast.
Balfour Beatty's report comes after Sir John Armitt, the boss of the National Infrastructure Commission yesterday demanded the chancellor commit to properly funding a long-term infrastructure strategy.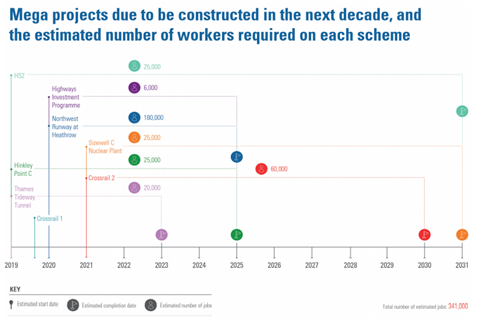 Source: Transforming infrastructure: Skills for the UK's megaprojects - Balfour Beatty