Civil engineering division will build rail temrinal for DP World's London Gateway hub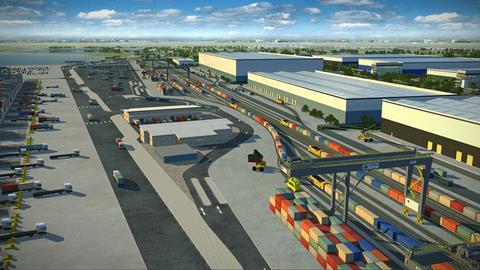 London Gateway
Balfour Beatty Civil Engineering has won a multi-million pound contract to build a new rail terminal capable of handling the longest trains in the country to service the new deep-sea container port being built east of London.
Terminal operator DP World's London Gateway will be capable of handling trains up to 34 wagons in length and will have a double-tracked branch line linked to the port.
Gina Acosta, London Gateway port/park interface and rail terminal manager, said the development was aimed at providing a reliable service that will reduce transportation costs.
"With 33% of London Gateway port's throughput expected to go by rail, we are committed to having the right infrastructure and operational processes in place from day one," she said.
"We are also future proofing rail capacity by double tracking the branch line."
Balfour Beatty Civil Engineering managing director Marshall Scott said the infrastructure would help make the UK more competitive and create new options for the distribution of freight.
The terminal is set to open towards the end of next year and will handle 3.5m 20ft-equivalent container units a year, when it is fully developed.