Structure will provide cooling water to nuclear plant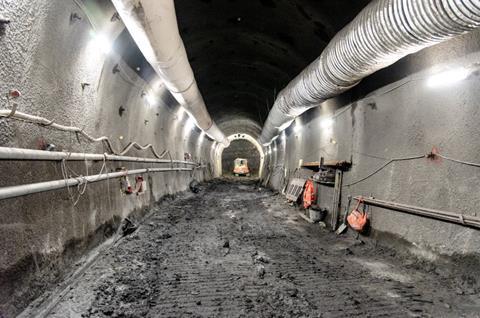 Balfour Beatty has reached a major milestone on its Hinkley Point C tunnelling and marine project, with the team successfully completing the breakthrough of the longest and final onshore cooling water tunnel at the power station.
This marks the completion of Balfour's sprayed concrete lining works at the site.
Excavating through 600m of ground to create the tunnels, the team sprayed the ground with 9,000m3 of concrete in order to stabilise the recently formed underground structures.
In total, the process required over 1.6 million hours across the tunnels, with the programme of works completed to schedule.
The five onshore tunnels will now undergo secondary lining works, installing a number of reinforced rebar concrete structures to further stabilise the sprayed concrete.
In total, the team have successfully completed all five onshore tunnels which will play an essential role in the critical cooling water system for the nuclear power station.
The same team have prepared three portals to facilitate the launch of the tunnel boring machines (TBM) that will excavate the tunnels for the main cooling water system.
The first TBM has already set off on its journey, having travelled over 2.5km, 33m under the Bristol Channel.