News comes as firm announces further cuts to UK construction business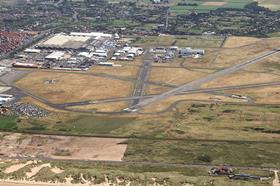 Balfour Beatty is unlikely to recover around £19m owed to it by the now defunct Blackpool Airport Limited.
The news comes as the firm announced it was continuing to cut back its UK construction business with "further overhead reductions" and cuts to its regional business to "reduce both its exposure to smaller contracts and its number of delivery units".
Balfour Beatty bought the airport (pictured) for £14m in 2008 as part of a strategy to diversify the business into owning airports, which it has since abandoned. Blackpool Airport Limited was put into liquidation last month after Balfour Beatty failed to find a buyer for it.
Accounts filed at Companies House revealed the firm is owed around £19m by the airport, but only £562,193 of assets are expected to be realised from the liquidation.
In total, the airport owes £35m to all its creditors, £28.6m of which is owed to "group companies", understood to be Balfour Beatty.This is partially offset by £9.3m that "group companies" owe the firm. A spokesperson said the debt will affect Balfour's balance sheet but not its trading performance.
The news comes as Balfour Beatty confirmed it was set to close its office in Barton, Lincolnshire, putting up to 26 jobs at risk.
The office's functions will be absorbed into the troubled contactor's Leeds office in a bid to cut property overheads.
A Balfour spokesperson said: "We have spoken to employees in our Balfour Beatty Barton office, regarding a proposal to close the office and relocate to our existing Leeds office."
Balfour Beatty also announced last week that the sale of some of its German rail businesses would result in a loss on disposal of £25m. At the same time it announced that it had sold its German railroad Tuning Business for £1m, a figure it said "broadly equated to net asset value".
Balfour Beatty will keep other parts of its German rail operations before selling them separately.