Contractor believes piecemeal sales of investment assets will fetch bigger prices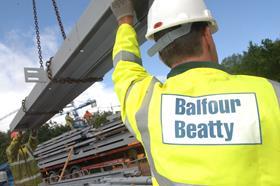 Balfour Beatty has rejected a £1bn bid for its entire public private partnerships portfolio.
The construction giant told the City this morning that it had snubbed the offer from the John Laing Infrastructure Fund to buy its portfolio of PPP investment.
While Balfour valued the overall PPP portfolio stood at £1.05bn in June, the firm said it now believes that it can fetch more by selling these assets on a more piecemeal basis as and when they mature.
As evidence, the company's board pointed to the recent disposal of an investment for 28% more than it was valued at during the summer.
The Balfour board has said it plans to publish an updated valuation of its assets next month after new group chief executive Leo Quinn joins the company.
This valuation will take into account recent contract wins, further investments and disposals in the period since June, and a further review of underlying project valuations.
Separately, it will seek to value the current investments pipeline.
Balfour also said that its construction and support services businesses draw value from its PPP investments business, which it said needed to be taken into account when valuing the group as a whole or evaluating any proposal to acquire the PPP investments portfolio.
Balfour said it would be providing further details when it publishes its updated directors' valuation next month.
Balfour also told the stock market that the KPMG review of its UK construction projects will be complete by the end of the year, before being delivered to the board in January. The board plans to announce the key findings and conclusions from the review in the second half of January.