Losses continue in chief executive Leo Quinn's first set of results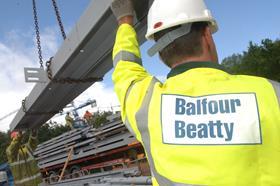 Balfour Beatty has slumped to a £150m half-year pre-tax loss, in chief executive Leo Quinn's first set of results as boss of the troubled contracting giant.
The £150m pre-tax loss for the first half of 2015 compared to a £58m pre-tax loss for the same period last year. Over 2014 as a whole Balfour made a £304m pre-tax loss.
Balfour's UK construction services business made a £145m operating loss in the first half of 2015, compared to a £59m loss in the first half of 2014.
The US construction services business joined its UK counterpart in the red, posting a £41m operating loss, compared to a £12m operating profit last year.
Balfour said the overall loss was in line with market expectations as set by a £150m profit warning issued last month - its seventh in three years.
The firm made £152m of contract writedowns in the first half - £100m in UK construction, £32m in US construction and £20m in Middle East construction.
Balfour sought to reassure investors that it expects 90% of its historic problematic UK contracts to be resolved by the end of 2016.
Quinn said: "Inevitably the headline numbers set out the consequences of the historic issues that are now being tackled."
He added that despite the ongoing losses his "conviction" was that the firm would achieve "superior returns" in the "medium term".
He said the firm's 'Build to Last' transformation programme was "on course" to meet its 24-month targets to generate £200m of extra cash and cut £100m of cost.
The firm's overall revenue was down marginally to £3.47bn, down from £3.56bn last year, while UK construction services revenue also dipped slightly to £1.12bn, down from £1.14bn.
Balfour's overall order book was stable at £11.3bn, down marginally from £11.4bn. Net cash stood at £260m, up from £219m.