JV will oversee works across Area 10 covering Merseyside, Cheshire, Lancashire and Greater Manchester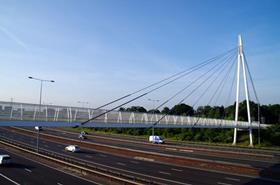 Balfour Beatty and Mott MacDonald joint venture has won a £115m Asset Support Contract extension from Highways England continuous improvement of highways in north west England.
The 17 month agreement, runs from November 2017 to March 2019, will cover the Area 10 motorway network across Merseyside, Cheshire, Lancashire and Greater Manchester, and adds to the initial deal signed five years ago.
The current Asset Support Contract delivers a full range of service delivery and maintenance activities, including 24/7 response, to ensure the safe operation of 570km Highways England Strategic Road Network within Area 10.
This extension will also enable the 70:30 joint venture to employ a further four apprentices within the project's maintenance and response teams, joining the seven current Balfour apprentices, three graduates and four Mott graduates already employed across the contract.
Phil Clifton, executive general manager of Balfour's Major Project Highways business, said that over the past five years, it has delivered over 500 Highways England renewal and improvement schemes.