Shadow chancellor uses Labour conference speech to commit to austerity in next parliament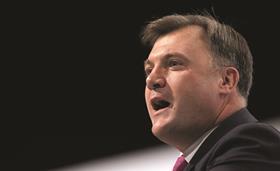 Ed Balls has ruled out the possibility of Labour borrowing to invest in extra capital spending if the party is elected to government next year.
The shadow chancellor has previously ruled out any unfunded commitments to support day-to-day or current spending, but had left the door open to the possibility of additional borrowing to boost capital spending
But in his speech to the Labour Party conference in Manchester today, Balls went further in asserting Labour's commitment to austerity over the next parliament, pledging that all investment in capital projects would have to be fully funded by cuts to other spending and would not be funded by additional borrowing.
Balls said Labour would run a surplus in the next parliament, adding: "In our manifesto, there will be no proposals for any new spending paid for by additional borrowing.
"No spending commitments without saying where the money is coming from. Because we will not make promises we cannot keep and cannot afford."
Following Balls' speech, Chris Leslie, shadow Treasury secretary, confirmed the shadow chancellor had ruled out the option of borrowing to support extra capital spending.
Speaking to the World at One, he said: "No. We're absolutely clear. Our manifesto proposals will not have a reliance on extra borrowing for any of the spending or investment choices that we make.
"Where we say we're going to make those investments, we'll say exactly where the money comes from."
Leslie added: "We have to prove to people not just that we want to do great things because they know that's in our heart; but they want to know that we are prepared to take the tough decisions, that we're not going to borrow to fund spending but that … whenever we say we want to pay something, for example extra childcare for working parents, we will say 'actually we can raise that extra £800m from the bank levy to do it'.
"So it's very clear in our manifesto all those proposals will be set out."
In his speech, Balls also confirmed Labour would set up a British investment bank; give the Green Investment Bank borrowing powers; and set up a new independent National Infrastructure Commission in order to "end dither and delay on big infrastructure decisions we need for the future".
Balls also confirmed that if Labour formed the next government the national minimum wage would rise to £8 an hour over the course of the next parliament.