Glenn Howells Architects-designed residential towers on the edge of Canary Wharf submitted for approval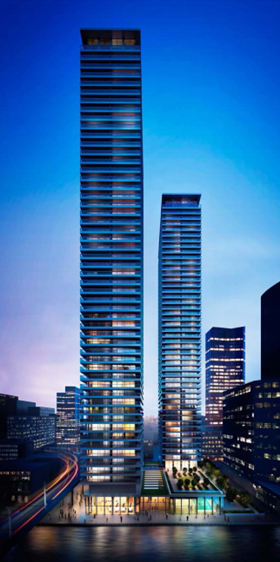 The Arrowhead Quay residential development will comprise two slim towers of 55 and 50 storeys and contain 792 apartments with shops on the ground floor.
The developer said the towers, designed by Glenn Howells Architects, have been carefully designed so as "not to appear as one single mass", although they will be linked at ground floor level with a double height, glazed lobby.
The scheme, submitted to Tower Hamlets council, includes a swimming pool and a sky garden, as well as 42 affordable homes.
The 172m and 188m high towers replace a previous scheme, with planning permission, for a 26-storey and 16-storey office development.
The developer said that "due to changed economic circumstances, demand for office developments is no longer strong at this location which is outside the core of Canary Wharf".
"A residential development is now thought to be more appropriate for the site, which more closely responds to the changing landscape in this area of Docklands," the developer said.
A decision on the planning application is expected by the summer of 2013.