Contractor will build 160,000 sqft office building, which won planning last week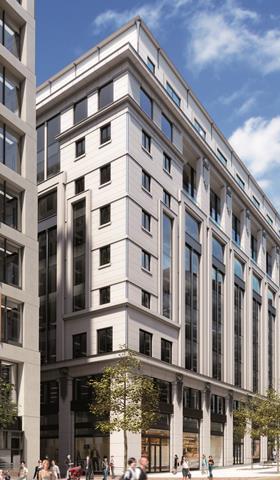 Bam has landed the contract to build the latest major office development at Argent's King's Cross scheme, Three Pancras Square, which is worth around £40m, Building understands.
Three Pancras Square is a 160,000 sqft office building with 13,000 sqft of shops and restaurants at ground level.
The Porphyrious Associates designed building won planning from Camden Council last week.
The building will contain ten floors of offices built around a single core. Construction of Three Pancras Square will commence later in 2014, with the building expected to be completed in summer 2016.
The building will sit at the corner of King's Boulevard and Goods Way, overlooking the Regent's Canal, with its main entrance on Pancras Square.
Nick Searl, partner at Argent, said: "We are creating an attractive and accessible work place, in a building that does justice to its surroundings.
"Three Pancras Square is the next piece of the Pancras Square puzzle and sits in close proximity to the Regent's Canal and some of the area's most striking heritage features."

Demetri Porphyrios, principal of Porphyrios Associates, said: "One of the most pivotal places to build in the King's Cross masterplan is the northern tip of the King's Boulevard. This tree-lined street runs from King's Cross station and St Pancras International, over the Regent's Canal to Granary Square, home to Central Saint Martins.
"Our design for Three Pancras Square is inspired by the robust repetition and change that both late 19th century industrial buildings and contemporary office buildings exhibit. We also wanted to build in a manner that celebrates precast stone, with its large tectonic scale and the attendant windows of glazed 'gaps'. All found in the wonderful industrial world of King's Cross".