Council given advice that contractor should pay to fix a string of defects on the scheme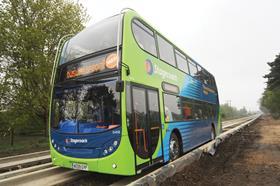 Contractor Bam Nuttall is facing the prospect of a further legal claim for £31m of repairs to its Cambridgeshire guided busway project.
The troubled project - the largest of its type in the UK - was originally due to be finished in early 2009 for a total cost of £116m, but was eventually completed in April 2011 at a reported cost of £152m.
Last year Bam Nuttall paid out £33m in an out of court settlement over a dispute over cost overruns on the project following the delay.
Now, fresh expert advice given to the council by a lawyer and consultant Capita has said there are defects on the project, amounting to £31m of work, that should be fixed by the contractor.
The advice is due to be debated by the council's General Purposes Committee next Tuesday (7 October).
Independent advisors found a variety of defects on the project including shallow foundations, inadequate drainage and misaligned bearings.
The same advisors have told the council the defects amount to a breach of contract by Bam Nuttall and it should be pursued for the money to pay for the repairs.
Bob Menzies, service director of strategy and development at Cambridgeshire council, said the defects "left by the contractor" should be fixed and paid for by Bam Nuttall.
He added: "We have fixed some of the defects but the advice is if we leave the rest then beams could move seriously effecting ride quality. The committee will look at this independent expert advice and make a decision on the best way forward."
Bam Nuttall declined to comment.