Contractor knocks rival Skanska into second place in league table of low carbon UK firms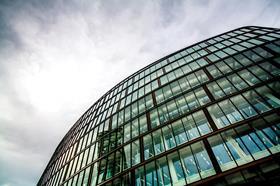 Contractor Bam Group has topped a league table of UK firms with the lowest carbon emissions, unveiled today.
Rival contractor Skanska UK was second place on the list, which includes firms from across all industries in the UK - although only those that used more than 6,000MWh of electricity in 2008.
The league table of 2,097 firms is compiled by the Environment Agency and ranks firms on their scores against the Carbon Reduction Commitment.
Other construction firms high up the list included contractors Carillion, which was 7th; Costain, which ranked 12th and Babcock, which was 43rd.
Last year, Bam completed the new headquarters for the Co-Op in Manchester (pictured) which has won praise for its green design.
Jesse Putzel, sustainability manager at Bam, said being placed at the top of the league table was a good reward for reducing carbon emissions.
But he added there was a loophole in the scheme, which meant that fuel usage was only counted on ongoing projects, with new projects that started last year, or projects that completed last year, not included.
He said this gave construction firms an artificial boost in the league table by enabling them to show inflated reductions in their emissions due to the transitory nature of their business."It shows up some of the deficiencies with the scheme and we have been saying that to government," he said.
David Symons, director at environmental and engineering consultant WSP, said: "Most encouraging is that companies show an average 7% improvement in carbon emissions per unit of turnover. Less good news is that only 500 out of the 2000 companies actually reduced their emissions in real terms last year."
The Department for Communities and Local Government was the highest ranked government department, at 8th, while Manchester City Council - in 4th spot - was the highest ranked public sector organisation.
United Business Media, the publishers of Building magazine, were ranked 9th.
The full league table can be viewed here.