RBS, Lloyds Banking Group and Barclays agree to write off £87m of debt in return for majority ownership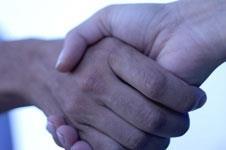 Mouchel's bankers - RBS, Lloyds Banking Group and Barclays - have taken an 80% stake in the company as part of a restructuring deal to save the company, the consultant's chief executive Grant Rumbles has disclosed.
The banks agreed to write off £87m debt in return for "majority" ownership of the consultant. Mouchel will delist from the stock exchange on 25 September as part of the restructuring, with existing shareholders receiving just 1p per ordinary share.
Rumbles told Building he expected the company would look to exit the deal - possibly through a stock market flotation - in three to five years' time.
He said that Mouchel's management would retain 20% of the ownership of the company under a management incentive plan.
He said Mouchel had a "strong underlying business", but that the burden of its £87m debt mountain had proved unsustainable. The deal with the banks will secure 8,000 jobs.
Mouchel's share price has collapsed from 384.5p on 5 January 2009 after three profit warnings - including an £8.5m profit warning last October - and failed takeover bids from rival consultants Costain and Interserve.