Project will connect new suburb to London Overground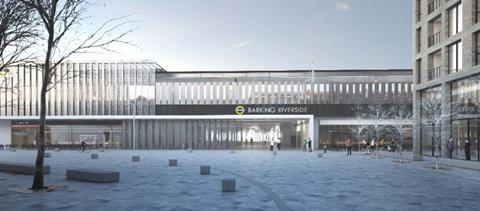 Moxon Architects has been commissioned by Transport for London (TfL) to design the new station for the Barking Riverside regeneration scheme.
The station, due for completion in 2021, is being built to receive the London Overground line extension from Gospel Oak.
Moxon has designed the station, which will sit at the end of a 1.6km viaduct, as a series of stainless steel panels that transition from solid to perforated to accentuate the deceleration of approaching trains.
The station will have an open entrance with ticketing and information points at ground level. A central concourse will guide passengers to the raised platform on top of the viaduct via stairs and lifts.
The station will have secure bike storage. Shops will face on to new public realm surrounding the station.
Moxon director Tim Murray said: "Barking Riverside provides us with a rare opportunity to create an entirely new terminus for a new neighbourhood in London.
"By incorporating public space this station will provide for people moving to a contemporary piece of the capital."
Barking Riverside – a 10,800-home redevelopment – is being delivered by the Greater London Authority and housing association London & Quadrant (L&Q) which is also helping to fund the Overground extension.
Around £70m of the £263m project will be provided by L&Q, while the GLA is giving £102m in funding with the rest coming from TfL.