Country's biggest housebuilder trialling new ways of building its homes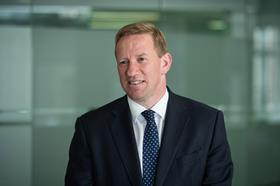 The country's biggest housebuilder has begun trialling a number of offsite technologies as it looks at ways to improve efficiency on the back of a record half year profit.
Barratt, which is celebrating its 60th year in business this year, built around 1,270 homes using timber frames in the first half and said it has recently completed trials of light gauge steel frames and large format blocks.
It added: "These provide similar benefits to timber frame, such as increased build speed and reducing our reliance on certain traditional construction methods. We continue to trial various new offsite technologies, including offsite concrete garages and offsite ground floor foundation systems. We are also researching and applying smart technologies to better understand the needs of our customers in the future."
Barratt also said it has reduced the number of designs it has in its Barratt and David Wilson housing ranges which it said increased standardisation, simplified construction and reduced build costs. It said the new designs are planned for 304 sites with around half of these now under construction.
The firm added that improved efficiency reduced demand for labour, the cost of which it said was still rising leading to an increase of 3-4% on build costs this year and next.
It confirmed it was on track to pay a £175m special dividend to shareholders this November and a further £175m in November next year. It has already made just under £400m in payments in the previous three years bringing the total amount it will hand shareholders in special dividends to £750m. The firm said for the five years to November 2019, the total amount it will have handed shareholders will be £1.9bn.
Barratt turned in a record pre-tax half year profit with the figure jumping 7% to £342.7m for the six months to December 2017. Revenue was up 9.5% to £1.98bn while the average selling price of its homes was up 6.5% to £281,000.
The number of homes it built in the last six months of 2017 was up 144 to 7,324 which it said would be boosted by the opening of a new Cambridgeshire office as it targets demand for new homes in eastern England fuelled by the region's growing tech and biomedical industries.
Chief executive David Thomas (pictured) said: "With good consumer demand, a healthy forward order book and a robust balance sheet, overall we have had a strong first half and we continue to deliver against our operational and financial objectives."
Operating margins inched up 0.1 to 17.9% with the firm adding that a subdued market in the high end central London market had put the brake on a bigger rise.
Its next trading update will be on 10 May.