Country's biggest housebuilder puts 85% of employees into government jobs retention scheme
Barratt is furloughing more than 5,500 people as it attempts to handle the fallout of the covid-19 pandemic.
In its 2019 accounts, the country's biggest housebuilder said it employed 6,504 people and paid out £357m in wages.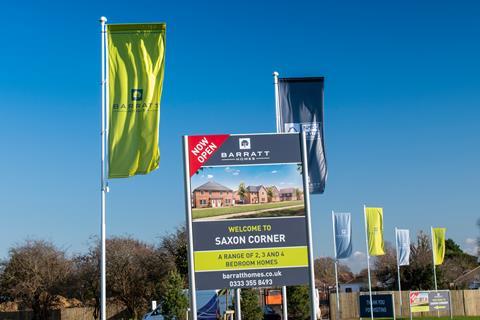 In an announcement to the City this morning, Barratt said: "We are in the process of furloughing around 85% of our employees. We will pay furloughed employees their normal pay while they are furloughed until at least the end of May 2020."
The firm added: "To reflect the ongoing focus on preserving cash within the business all executive directors, the wider executive and regional managing director team, the chairman and the non-executive directors have agreed to a voluntary 20% reduction in base salary and fees, effective from April 2020.
"[This will continue] until such time as the group is able to restart work on site. In addition, they have also agreed to waive any salary or fee increase for FY21."
The housebuilder has already confirmed it is cancelling the interim dividend of 9.8p a share, around £100m, stopping all recruitment activity and suspending all land buying activity.
The firm, whose year end finishes on 30 June, said it had completed 1,349 homes between 23 March, the date the UK went into lockdown, and 12 April. "Whilst our sales centres and construction sites remain closed, we expect any further home completions and reservations to be very limited," it said.
It added that it has cash reserves of around £450m and facilities of £900m. The firm said it was "explor[ing] other government funding initiatives and will provide updates where appropriate".