Housebuilder's 2021 completions to be within 1,000 homes of pre-pandemic level
The UK's biggest housebuilder Barratt will build nearly 1,000 more homes in the year to June than previously expected after seeing strong demand for its homes over spring.
The new guidance, issued in a trading update this morning, puts the builder on course to complete between 16,000 and 16,250 homes this year, without including joint ventures.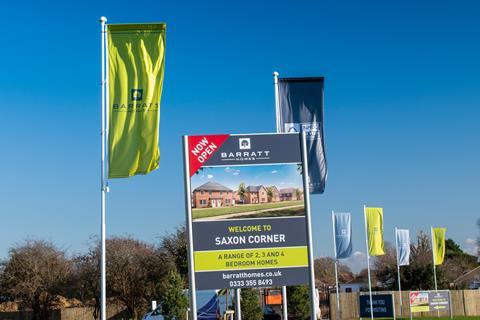 This volume compares to an estimate of 15,250 and 15,750 made as recently as February and an estimate of just 14,000-15,000 made last September. Factoring in 650 expected joint venture completions, the figure would put Barratt within 1,000 homes of the 17,856 completions achieved in 2019, prior to the pandemic.
Chief executive David Thomas said: "We have seen strong demand for our high quality, energy efficient homes on well-designed developments […]. As construction activity has increased our employees and sub-contractors have worked hard to maintain our high standards of quality and service."
The upgrade came as the firm reported site sales per week between January and the start of May of 0.83, sharply up on the lockdown-affected 0.52 reported last year, but also above the 0.79 seen in 2019.
The firm added that it remained committed to expanded volume in the medium term to its operational capacity of 20,000 homes. Barratt said it had already sold all the homes deliverable in the current financial year to the end of June 2021, with forward sales up at £3.7bn, well above the £2.8bn reported in 2020.
The firm said it had opened 57 new sites in the first four months of 2021, almost double that in the same period last year, operating from an average of 346 sites.
Shares in Barratt rose as much as 2% in early trading.