UK's biggest housebuilder says 20% of homes will be built using method by next year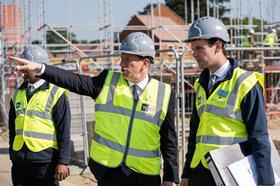 The country's biggest housebuilder has said it plans to accelerate the number of homes built using Modern Methods of Construction.
In the year to June 2018, Barratt built just over 17,500 homes with more than 1,900 of these built using different types of MMC including timber frame and light gauge steel frame.
The figure represents around 11% of its output but in a trading update this morning Barratt chief executive David Thomas (pictured, middle) said it plans to use MMC in 20% of its homes by next year.
He added: "Our new housetype ranges are suitable for modern methods of construction."
Barratt said its build cost inflation was expected to be 3-4% in its current financial year as well as the remainder of 2019.
The firm said total forward orders sales between 1 January 2019 and 5 May were up 2.3% to £3.37bn.
Barratt is due to unveil its 2019 results on 4 September.