The developer behind Battersea Power Station says it has appropriate procurement processes in place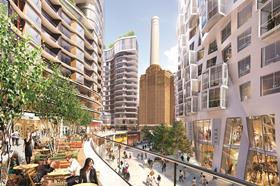 The developer behind Battersea Power Station said it has put processes in place to ensure it gets good value after appointing contractor Bouygues for the £1bn third phase of the scheme, despite few bidders for the work.
Bouygues was announced as main contractor on the 1,305-home project last week, following a procurement process which reportedly saw it shortlisted alongside only Balfour Beatty for the "in excess of £1bn" project.
Aidan McLeod, project manager at Battersea Power Station Development Company (BPSDC), admitted the client only had a "very, very short list of interested contractors", but said in response it had worked up the Foster + Partners and Gehry Partners designs in as much detail as possible in order to reduce as many variables as it could from the project.
McLeod said BPSDC selected Bouygues as the preferred contractor due to it being able to deliver the building's concrete frames itself without having to subcontract it. BPSDC views the concrete frames "as one of the biggest project risks and they [Bouygues] described a fabulous proposal to deliver it and remove a great deal of risk," McLeod said.
He added the French contractor was also "less focused on risk and more focused on delivery and solutions".
Philip Gullett, chief operating officer at BPSDC, said the firm is now kicking off procurement "as early as possible" for "some of the big, risky [specialist] packages," such as the facades. He said subcontractors for the groundwork, piling and cladding packages, which have already been out to tender, will be recommended to the shareholders next month.