Scheme would have seen residents paying more than £400 per week for studio apartments with shared kitchens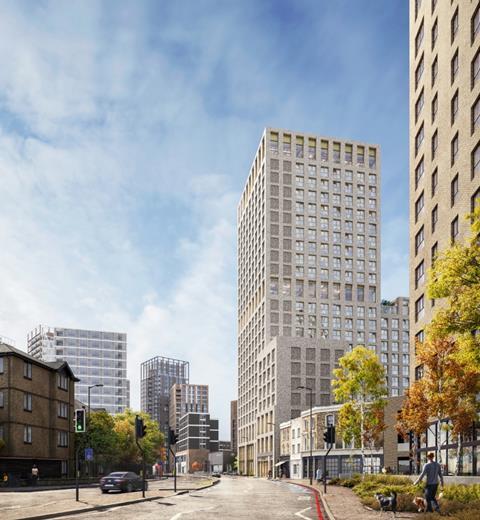 Hawkins Brown's proposals for a 24-storey residential tower in Battersea have been rejected because of the scheme's lack of affordable housing.
Wandsworth council's planning committee voted to refuse permission for the 547-home scheme, against the officer's recommendation to approve it.
The shared living development would have seen residents pay up to £410 per week to live in studio apartments no more than 36.5 sq m in size but with communal kitchens and amenity spaces.
A summary of the decision on the council's website said the proposals, designed for developer Greystar, did "not meet an identified local need" for this type of housing in the area based on a housing needs assessment carried out in 2020.
Councillors added that granting consent would effectively prevent an existing planning permission on the site for a 20-storey tower of 168 homes, 60 of which would be affordable, for which there was a need in the borough.
This block, designed by Mountford Piggott and approved in April 2019, would be the second phase of a scheme which has already seen the construction of a six-storey self-storage facility on the site.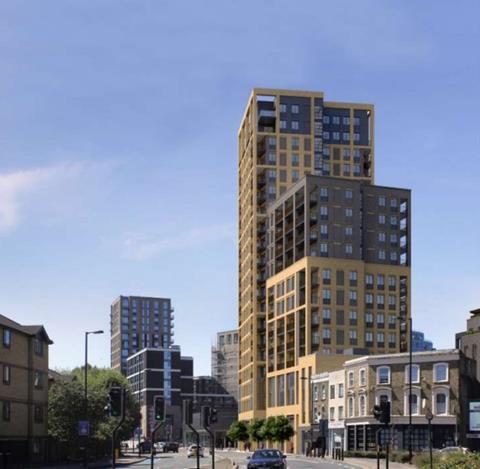 The applicants, GS Battersea Owner Ltd and Big Yellow Lts had lodged the new application to increase the tower's number of homes, with the new proposals consisting of three main blocks of 24, 13 and seven storeys linked by a three-storey podium. All blocks would be faced with a light grey brick cladding and the tallest divided halfway up by a a glazed level.
The homes, described as shared living units, would range in size from 22 to 36.5 sq m with residents having access to communal amenity space including 413sq m of shared kitchens, 310 sq m of exercise space and 250 sq m of co-working space.
The development would also include other facilities including games room, yoga room, cinema, library and laundry room.
Hawkins Brown also saw a set of proposals, designed with Mae, for 250 homes next door to Cockfosters tube station in north London blocked by transport secretary Grant Shapps in March over the loss of car parking spaces in the area.