CITB says it will retest thousands of construction workers following Newnight exposé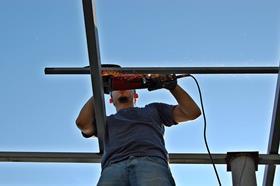 A BBC Newsnight investigation on alleged CSCS card fraud last month has prompted the CITB to retest 6,000 construction works.
In a statement the CITB's director of delivery and customer engagement Carl Rhymer said the training body - which operates the CSCS card scheme - was undertaking the retests to "eliminate any doubt" about the scheme's credibility.
Rhymer said: "We know card fraud is a serious problem for the UK construction industry and we are tackling this head-on.
"We were actively investigating and had shut down five internet testing centres before the Newsnight programme was broadcast. Three of these centres were featured in the programme.
"Whilst it is impossible to eliminate fraud completely, we are working hard with CSCS and the police to crack down on fraud and we are accelerating existing plans to install mandatory CCTV in all testing centres. We've also increased the number of spot checks on centres, to act as a deterrent."
The CITB said it had reviewed all its test results and was satisfied that the "vast majority" of the tests are legitimate. Employers have been advised "they do not need to take any action, unless a CSCS card has been revoked". Employers with concerns are invited to contact a dedicated helpline on 0344 994 4053.
Rhymer added: "All retests will be taken at centres operated by Pearson VUE. Individuals retesting will need to register within a month and have completed the test within three months. CITB will issue vouchers to cover the cost of retesting.
"Safety on site is paramount, but we cannot do it alone. We are calling on all employers to check the validity of CSCS cards by using the Smart technology contained within the card. Alternatively you can use the 'CSCS Card Checker' or citb.co.uk/cardcheck to make sure that all revoked cards or achievements are picked up and unqualified individuals are prevented from working onsite.
"Our intelligence suggests that organised fraud is focused and accounts for very small proportion of the achievements issued legitimately every day.
"Where possible, we always work with law enforcement to prosecute those engaging in fraudulent activity."