But US giant says it is still pursuing damages after losing Old Oak job to Balfour Beatty team
Bechtel decided to pull its opposition to HS2 signing a deal with a Balfour Beatty team for a £1bn station in west London after being told it could be liable for a huge compensation claim from the railway if it lost a court case over the award next autumn, Building understands.
The US engineer launched legal action in February after missing out on the Old Oak Common scheme earlier this year to its rival, known as BBVS, which also includes Vinci and French engineer Systra.
The firm said the procurement process was botched and that HS2's decision had cost it more than £100m in lost profit and revenue.
Its move triggered an automatic suspension of formal contract award with the pair due to appear at the High Court next Tuesday at which a judge was due to decide whether to block the award of the contract to the Balfour team or side with HS2 and allow it to formally sign the deal with BBVS.
Next week's case has been scrapped after Bechtel, which pulled out of bidding for the £1.65bn contract to build the HS2 station at Euston, later won by Mace and Dragados, said it would now not be contesting the award to its rival.
But an October 2020 hearing at the High Court, where Bechtel will press its £100m-plus compensation claim, is still slated to be heard.
Building has been told that legal correspondence between the pair had made it clear Bechtel could face a compensation claim from HS2 if it won next week's court case – but lost next autumn's hearing.
That would have seen the scheme held up more than 18 months, given the Balfour team was awarded the job on 6 February this year.
A source at Bechtel said: "We still think the procurement was mishandled but no responsible company could take the risk we would have to by upholding the suspension [of contract signing]."
Neither Bechtel or HS2 were prepared to say how big any claim made by HS2 could be but it is understood to be in the tens of millions of pounds with one estimate suggesting it could top £100m.
A Bechtel spokesperson confirmed that, despite dropping its objection to awarding the contract to BBVS, it was still pressing on with its case next year. "We remain confident of our case and are still pursuing it through to trial next [October]."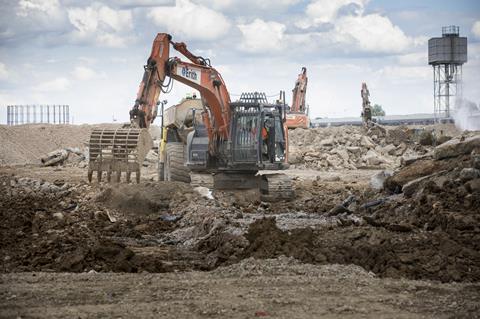 Kicking off its legal action earlier this year, Bechtel, in papers lodged at the Technology and Construction Court in April, said HS2 had incorrectly scored BBVS's application.
It said BBVS's tender price was "abnormally low" due to an insufficiently large management team which would have to be expanded, while HS2 should have recorded "major concerns" regarding the quality BBVS was able to deliver.
An HS2 spokesperson said it would sign the contract with BBVS "as soon as possible" and added: "We welcome Bechtel's decision." He also said HS2 was confident the process to appoint the Balfour team was "robust".