US firm will have 200 staff working on Anglesey scheme
US giant Bechtel has been appointed to manage construction of a planned nuclear power station in north Wales.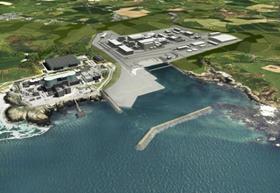 The firm is the project management contractor on the Wylfa Newydd nuclear power station on Anglesey which is being developed by Japanese-owned Horizon Nuclear Power.
Bechtel will have close to 200 staff on the site, Horizon, whose parent is multinational Hitachi, added.
Horizon said it has also signed further contracts with Hitachi's nuclear specialist, Hitachi Nuclear Energy Europe, set up three years ago, and JGC New Energy UK, a Japanese contractor and engineer working on the scheme which has previously worked on a lab job for Unilver at Colworth in Bedfordshire.
The Bechtel team was first confirmed to carry out the work at the £10bn plant (pictured) back in May 2016.
Earlier this summer, business and energy secretary Greg Clark said the government and Hitachi had begun talks to get the plant off the ground. He said these will centre on value for money, due diligence and whether the scheme needs UK taxpayers' money pumped into it.
Horizon has drawn up proposals to build two reactors with a combined capacity of 2.9GW using advanced boiling water reactor technology. The firm submitted its scheme to the Planning Inspectorate at the beginning of June.